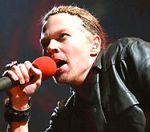 Every American citizen is entitled to a free can of Dr Pepper after
Guns N' Roses
announced plans to release their new album '
Chinese Democracy
' next month.
Earlier this year, the drinks company promised to give everyone a free drink if the band released their long awaited album before the end of 2008.
In a statement, Tony Jacobs, Dr. Pepper's vice president of marketing, said: "We never thought this day would come but now that it's here all we can say is: The Dr Pepper's on us."
From November 23rd, the day of the album's US release, people will be able to download a coupon which can be used to redeem a free 20-ounce can.
After the fourteen year wait for 'Chinese Democracy's' release, however, fans will have a 4-6 week wait before their coupon arrives in the post, the company said.
As previously reported, Guns N' Roses officially unveiled the album's release details yesterday.
In addition to its exclusive US release in Best Buy stores, fans in the UK will be able to buy it in record shops from November 24th. The album will be available in three formats.
(by Jason Gregory)