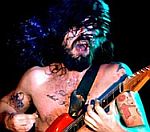 Iceland Airwaves kicked off in style last night (October 15) with a riotous set from
Biffy Clyro
.
The Scottish rockers delivered a blistering one hour plus set at one of the largest music venues in Reykjavik, NASA, to a full room.
As always, the trio performed with topless, as they rattled through their hits including 'Machines' and 'Mountain' to the delight of the crowd.
Despite the financial difficulties Iceland is suffering, the credit crash has done little to dampen the festival spirit.
All the Iceland Airwaves venues around the capital have been rammed to capacity, while the local people have been in typically jubilant mood.
Due to the decreased strength of the Icelandic Krona, British festival-goers are only paying London type drink prices rather than the extortionate amounts of previous years.
Other highlights from the opening night came courtesy of Icelandic bands Borko, Benni Hemm Hemm and Retro Stefson.
Tonight sees sets from Young Knives, The Mae Shi, Fuck Buttons, Florence and the Machine and some fantastically named Icelandic bands like Cocktail Vomit and XXX Rottweiler.
(by Scott Colothan)