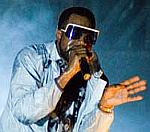 US rapper
Kanye West
told a crowd in Los Angeles on Friday (October 4th) that his new album would be released on November 25th.
West made the announcement during a surprise appearance alongside fellow rapper T.I. At the Key Club.
"I just pushed my album up to November 25," West said. "We just finished the album. I just got back from Hawaii earlier today."
The album, entitled '808s and Heartbreak', had previously been scheduled for release in December.
West performed his recent collaboration, 'Swagger Like Us', during his appearance, as well as an exert from 'Love Lockdown', the first single from his new album.
(by Jason Gregory)