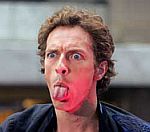 Coldplay
frontman Chris Martin has apparently claimed that a tabloid newspaper has helped him stay off drugs.
In a new interview, the singer revealed that instead of narcotics he had developed a fondness for tattoos.
"Getting tattooed is brilliant. I got a few done in my 30s and it is the best buzz ever - especially if you are married and can't take drugs because the Daily Mirror might find out," he said.
"I recommend getting a tattoo whether you are 70 or 12 - actually, maybe not 12, I think that might be a bit too young."
As previously reported, Coldplay confirmed today (September 1st) that they will release a new EP at the end of the year.
(by Jason Gregory)