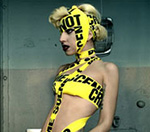 Nearly five hundred thousand people have watched the video for
Lady Gaga
's new music video in just 12 hours.
The nine-minute video for 'Telephone', which features Beyonce, premiered exclusively at 11.30pm ET on Thursday (March 11).
Shortly before midday (GMT) on Friday, 'Telephone' had attracted 415,702 views on YouTube.
Directed by Jonas Aklerlund, the video sees Lady Gaga and Beyonce transformed into America's Most Wanted after they poison customers in a diner.
Both singers wear a series of provocative outfits in the video, which also pokes fun at recent claims that Lady Gaga was a hermaphrodite.
The singer had described the video for 'Telephone' as a "real true pop event" in the build up to its premiere last night.
Lady Gaga also admitted that there was a "[Quentin] Tarantino-inspired quality" to the footage.
(by Jason Gregory)