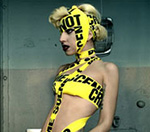 Lady Gaga
has unveiled her nine minute video for 'Telephone' after weeks an intense build up.
Ms Germanotta's epic promo was premièred at 11.30pm (EST) and uploaded to Youtube shortly afterwards. You can watch the clip in full below.
Featuring fellow pop megastar Beyonce, 'Telephone' was filmed in California in February and directed by the legendary Jonas Aklerlund, who also worked on the singer's video for 'Paparazzi'.
Lady GaGa herself recently described the video for 'Telephone' as a "real true pop event".
'Telephone' is released via CD and 7" vinyl this coming Monday (March 15th).
(by David Renshaw)