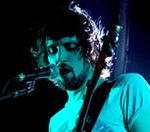 Kasabian
guitarist Serge Pizzorno paid tribute to Fabio Capello as the band launched England's new away kit in France last night.
Pizzorno – whose father is Italian – said the national team's manager's "no shit" policy had brought control to the England side.
"He strikes fear into them. There's no messing and he'll decide what happens," the guitarist told The Sun.
"England needed that - a manager who grabbed them by the scruff of the neck and shook them up a bit.
"He scares them and I think they've all just realised that now."
Pizzorno's comments come in the wake of John Terry's sacking as England captain following revelations about his private life.
Despite Terry's alleged indiscretions, the guitarist said England had "the best chance they could ever have" of winning the World Cup this summer.
Kasabian launched England's new away strip in controversial fashion in Paris last night when singer Tom Meighan arrived on stage wearing the kit.
The traditional looking design goes on sale on March 3.
(by Jason Gregory)