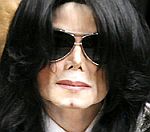 Dr Conrad Murray, who was with
Michael Jackson
when he suffered a suspected cardiac arrest, has been questioned for three hours by Los Angeles police.
A police spokesperson said the doctor had given an "extensive interview" and provided details that "will aid the investigation".
Media attention shifted to Dr Murray in the wake of Jackson's death after it emerged he had not signed the death certificate, which is stand practice.
There were also questions over Jackson's alleged use of painkilling medication, and whether Dr Murray had played any role in administering drugs.
But Dr Murray's spokeswoman told the BBC that he was not considered a suspect and "remains a witness to this tragedy".
Although initial reports claimed Dr Murray had disappeared after Jackson's death, she said the doctor had in fact travelled to the hospital with the star and spent time comforting his family.
His spokeswoman added that Dr Murray "feels so deeply about his relationship with Michael Jackson that anything he can do to help this investigation come to a resolution, he is doing".
Dr Murray was hired as Jackson's personal physician as he prepared for his comeback shows in London.
He could be heard on a 911 call trying to revive Jackson at his home in Holmby Hills on Thursday.
Second autopsy
As previously reported, it emerged last night the Jackson's family are apparently seeking a second autopsy on the singer's body.
The family are believed to have a series of questions about Jackson's death, which remained unanswered by the initial autopsy on Friday.
The Los Angeles Coroner's Office said that there was no evidence of foul play or external trauma in Jackson's death.
But after a three-hour examination of the star's body doctors deferred cause of death while they await the results of further tests, which could take up to six weeks.
'Sudden tragedy'
In a statement last night, the Jackson family said they were finding it difficult to come to terms with the "sudden tragedy" of Jackson's death.
Reports also claimed that plans are being hatched for Jackson to be remembered with a series of simultaneous global celebrations.
The 50-year-old star, known around the world as the King of Pop, died on Thursday.
(by Jason Gregory)