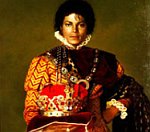 Relatives of
Michael Jackson
have broken their silence over the
musician's death
.
A statement, conveyed by the singer's father, Joseph Jackson, has been published by People magazine.
Mr Jackson said the family was finding it difficult to come to terms with the "sudden tragedy" of Jackson's death.
He also praised the star's fans – and urged them to "continue to spread [Jackson's] message" to ensure his legacy lives on.
It is the first time Jackson's relatives have spoken collectively since the star died on Thursday in Los Angeles of a suspected cardiac arrest.
'Beloved son'
"Our beloved son, brother and father of three children has gone so unexpectedly, in such a tragic way and much too soon," he said.
"It leaves us, his family, speechless and devastated to a point, where communication with the outside world seems almost impossible at times.
"We miss Michael endlessly, our pain cannot be described in words."
But, Mr Jackson said, the singer "would not want us to give up now.
"So we want to thank all of his faithful supporters and loyal fans worldwide, you – who Michael loved so much. Please do not despair, because Michael will continue to live on in each and every one of you.
"Continue to spread his message, because that is what he would want you to do. Carry on, so his legacy will live forever."
In his own statement, Mr Jackson added that Jackson's children had been "deeply moved" by the love and support shown by the singer's fans.
'Global celebrations'
The Jackson family's statement comes as reports claim they want a second and independent autopsy carried out on the star's body.
The family are believed to have a series of questions about Jackson's death, which remained unanswered by the initial autopsy on Friday.
The Los Angeles Coroner's Office said yesterday that there was no evidence of foul play or external trauma in Jackson's death.
But after a three-hour examination of the star's body doctors deferred cause of death while they await the results of further tests, which could take up to six weeks.
Meanwhile, further reports tonight claim Jackson is to be remembered with a series of simultaneous global celebrations.
The Rev. Al Sharpton, a close friend of the Jackson family, said relatives were currently discussing funeral plans.
He told AP they wanted the star to be remembered for his contributions to music and culture, rather than his personal troubles.
(by Jason Gregory)