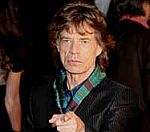 Rolling Stones
frontman Mick Jagger is producing a movie with director Martin Scorsese, according to reports.
Jagger is said to be buying the rights to biographies that can be turned into films.
The pair recently collaborated on the Rolling Stones film documentary, Shine A Light, which follows the band over the course of two gigs in New York.
Jagger, who is no stranger to the film world, recently revealed that he he would like to change elements of the documentary.
He said: "I watched it all the way through at the premiere but, when I watch it now, I can't help thinking 'I wish we'd changed that bit'.
"Or, 'Oh, we should have left that bit out'. Or 'I wished we'd put that bit back in.'"
Shine A Light includes guest appearances from Jack White and Christina Aguilera. The film available on on DVD and Blu-Ray now.
(by Jason Gregory)