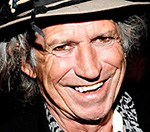 The daughter of
Rolling Stones
guitarist
Keith Richards
has appeared in court on graffiti and drug possession charges.
Theodora Richards was confronted by police drawing on the side of a convent in Soho, New York on Tuesday (March 1).
The 25-year-old had a small amount of marijuana and eight-and-a-half pills of a narcotic painkiller on her person, reports BBC News.
Police said Richards had written "T [heart] A" on the wall with a paint marker. It is unclear whether she was referring to an unknown companion, or her sister, Alexandra, 24.
When stopped by police, she allegedly told the officer: "I hope I don't get into trouble for this."
Theodora Richards is the daughter of Richards and model Patti Hansen. The case has been adjourned until April 21.
(by Jason Gregory)