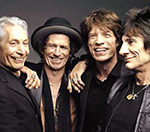 The Rolling Stones
had been planning to head out on the road in 2011, a lawsuit has revealed.
The lawsuit between concert promoter Live Nation and its former chairman Michael Cohl has revealed that the Rolling Stones were planning to tour this year.
Cohl is being sued for $5.35 million dollars after he broke the terms of an agreement after he left in 2008, reports Hollywoodreporter.com.
As part of his defence Cohl is saying that Live Nation breeched the contract first when they "interfere" and "destroy" his chance to secure promotional rights to a Rolling Stones tour later this year.
A spokesperson for the Rolling Stones last year played down reports the band are set to record a new album and go on tour this year.
The Rolling Stones last tour, Bigger Bang, concluded in 2007.
(by Holly Frith)