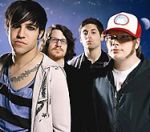 Fall Out Boy
will pay homage to the career of
Michael Jackson
in the video for the new single – a cover of the singer's hit, 'Beat It'.
Patrick Stump, the band's frontman, said the video had been inspired by all Jackson's videos but made "on a Fall Out Boy budget, so it's not quite as fancy."
The band's cover of the song has become a firm favourite with fans and recently featured on their live DVD '****'.
Speaking about the concept of the video, bassist Pete Wentz said: "If there were all these places where MJ can make his comeback, I would suggest this video.
"He should really let the world know he's still around. I don't know what our budget is, but I know it does not include enough to get him here.
"Multiple calls were not returned. I don't think Michael Jackson has a number."
Fall Out Boy's video for 'Beat It' is expected to premiere over the coming weeks.
(by Jason Gregory)