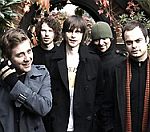 Kaiser Chiefs
are among the bands who feature on a workout album designed to get people their 'bikini bodies' this summer.
The Leeds rockers' hit 'Ruby' is included on 'The Ultimate Bikini Body Workout Mix' as a warm down track, alongside other such nimble stars as Kate Nash and Barry White.
the middle section of the CD - which is designed to 'blitz' your body into shape - features such dance classics as 'Dooms Night' by Azzido Da Bass and Sunblock's 'I'll Be Ready'.
Not exactly famed for his athleticism, we don't expect Ricky Wilson to start performing in a skimpy two-piece just yet...
(by Sean Williams)