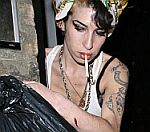 Amy Winehouse
was pictured with a fresh cut on her forearm outside her home in North London last night (May 27th).
The singer was caught by photographers as she carried a rubbish bag to the porch of Camden home.
Family members, including the singer's Mother, Janis, have spoken publicly in the past about their fear that Winehouse was self-harming.
In a recent interview with the Daily Mail, Mrs Winehouse blamed the singer's husband, Blake Fielder-Civil, for causing her daughters problems.
She said her daughter's approach to drugs "all changed when she met Blake."
"She didn't start self-harming until Blake came along, either," Mrs Winehouse said.
Fielder-Civil is currently in custody on suspicion of perverting the course of justice and GBH.
Fears for the singer grew over the weekend when she was seen cleaning in the early hours of the morning.
(by Jason Gregory)