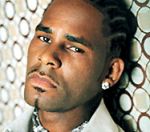 Simha Jamison, a witness in the trial of US R&B singer
R Kelly
, says her friend and the singer both appear in the sex video at the centre of the case.
Ms Jamison claims to have recognised her childhood friend from her face and told the court that they used to meet with Kelly when they were both younger.
R Kelly denies 14 counts of videotaping, producing and soliciting child pornography.
In the second full day of the trial, Ms Jamison told the court that she and her friend both used to visit R Kelly in his recording studio in Chicago.
She also said that R Kelly would give her friend money "no less than $100 and no more than $500".
Ms Jamison's friend has denied that she appears in the video tape, which shows explicit sex acts between and adult man and a girl believed to be around 13.
She has also refused to appear in the video, which was apparently shot between 1998 and 2000.
(by Jason Gregory)