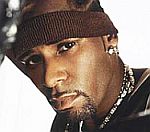 The jury in the trial of R&B star
R Kelly
have been shown the videotape which prosecutors claim shows the singer having sex with an underage girl.
The 27-minute film is the prosecutions main piece of evidence in Kelly's trial, which officially began yesterday (May 20th).
Kelly denies 14 counts of videotaping, producing and soliciting child pornography.
In the opening arguments, prosecutor Shauna Boliker said the video, shot between 1998 and 2000, would show the jury "acts you have never seen before".
"Vile, disturbing and disgusting sex acts, actions that were choreographed, produced and starred in by Robert Kelly," Boliker said.
Responding, defence lawyer Sam Adam Jr said the video was "at best a copy of a copy of a copy".
He also noted that Kelly has a mole on his neck which can't be seen on the man in the video, reports the Associated Press.
Kelly apparently sat grim-faced as he watched the video in court. If found guilty he could face up to 15 years in prison.
(by Jason Gregory)