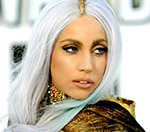 Lady Gaga
has compared her new album '
Born This Way
' to "heroin".
The singer said the album's title track, which was released as a single in February, was an easy introduction into the rest of the album.
She told Harper's Bazaar: "'Born This Way' is the marijuana to the heroin of the album.
"The [album's] experience gets massively more intense as you explore it. All the different songs are different kinds of highs."
Lady Gaga has also claimed that late fashion designer Alexander McQueen helped write the single 'Born This Way'.
The album is due out in May. Second single 'Judas' is due to be released on April 19, along with a new video.
(by Jason Gregory)