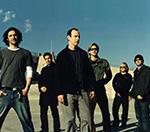 Bad Religion
have been added to the line-up for this year's Sonisphere festival.
The event, which runs from July 8-10, will be headlined by Biffy Clyro, Slipknot and the Big Four - Metallica, Slayer, Megadeth and Anthrax.
Other new additions to the bill include Cavalera Conspiracy, Richard Cheese, The Answer, Cancer Beats, My Passion, Opeth, Killing Joke, Four Year Strong and Black Tide.
Tickets are on sale now.
(by Holly Frith)