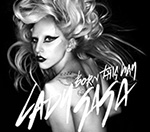 Lady Gaga
's recent single 'Born This Way' has been given Bollywood and Bhangra-influenced makeovers.
The remixes, which can be heard at the bottom of this page, have been officially backed by the singer.
The Bollywood remix, by producers Salim and Sulaiman, includes a sitar intro and dhol beats, while the Culture Shock Bhangra version includes additional vocals.
Both remixes have been put together in conjunction with the media company, Desi Hits, as the star attempts to launch herself in both markets.
Troy Carter, CEO of Lady Gaga's management company, said: "We collaborated with Indian music producers from across the globe to show our respect and appreciation for our Desi fans and music community."
'Born This Way' was the first single to be taken from the singer's forthcoming album of the same name, released next month.
Check out the remixes at desihits.com.
(by Jason Gregory)