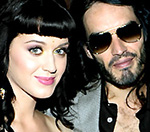 Katy Perry
has revealed that she has the lyrics to a
Nick Cave
song etched on the inside of her engagement ring.
The singer, who married comedian Russell Brand last year, told fans during a recent gig in Scotland that she was a huge fan of the Australian star.
"One of my favourite songs, Nick Cave's 'Are You The One That I've Been Waiting For', ended up on the inside of my engagement ring," she said.
Performing in Glasgow, Perry spoke fondly about Brand, according to the Daily Record.
The singer was in Scotland on the first of two UK legs that form part of her California Dreams world tour. The second takes place in the autumn.
(by Jason Gregory)