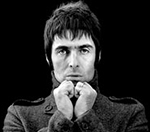 Liam Gallagher has told
Oasis
fans to "get over" the possibility of the band reuniting.
The singer has gone on to form new band Beady Eye, whose debut album 'Different Gear, Still Speeding' is released next month.
But at the end of last year former Creation Records boss Alan McGee said he believed the group would reunite in the future.
In an interview with Mojo, Gallagher said: "(MCGee is) wrong isn't he? And a couple of little c*nts moaning on the f*cking internet going, 'Oh it isn't f*cking Oasis,' aren't going to bother me.
"They're going to make themselves f*cking sick if they don't get over it."
Gallagher added: "It's like wanting your girlfriend back after she's f*cked you off. You'll end up getting yourself ill.
"They're not going to get me knocking on someone's door saying, 'Come on let's get back together'. It's done, mate. We had a great time. Beady Eye is where we are now... Get rid of all the Oasis songs and just bathe ourselves in Beady Eye."
But Gallagher went on to add that he may perform Oasis songs if Beady Eye's material was poorly received, although he told the magazine that he wouldn't perform any songs written by his brother, Noel.
(by Jason Gregory)