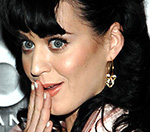 Katy Perry
has revealed that her fiance
Russell Brand
has influenced her forthcoming album, 'Teenage Dream'.
The US singer, who met the British comedian last September, said their relationship had made an impact on her lyrics.
"There are some songs on the album inspired by love," she told BBC Newsbeat.
"There's a song called 'Hummingbird Heartbeat'. He gives me that Hummingbird Heartbeat."
Perry also said she also wrote the song 'Firework' after Brand showed her an extract from one of his favourite novels, On The Road by Jack Kerouac.
"It was a paragraph that he said I was like," she said.
"In the book he was talking about how he wanted to be around people who were buzzing, fizzing and making people go 'Argh, like fireworks across the sky'.
"I guess that's my whole vibe. I want to make people go 'Argh' in so many different ways. I want to be a living firework."
'Teenage Dream', which is the follow-up to 2008's 'One For The Boys', is due to be released in August.
Meanwhile, Brand revealed earlier this week that he wanted Lady Gaga and Taylor Swift to do a "lesbian show" at his stag do.
(by Jason Gregory)