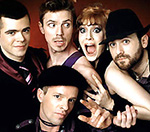 Scissor Sisters
were watched by Sir
Elton John
as they opened the iTunes festival in London tonight (July 1).
The band dedicated their hit 'I Don't Feel Like Dancin'' to the singer, who looked on from the balcony at the Roundhouse.
"We're about to play a real sweet song for a dear friend of ours who is here tonight," frontman Jake Shears said, signalling to Sir Elton.
"We love you - you are one of our greatest friends."
Sir Elton, who co-wrote the track with Shears, looked on fondly behind sunglasses as the crowd danced along to the song.
The gig marked Scissor Sisters' third London show in two weeks, and featured exactly the same set as their recent dates at Brixton Academy.
Fan favourites 'Laura' and 'Take Your Mama' were aired alongside ten songs from the band's new album 'Night Work', including recent single 'Fire With Fire'.
Shears and frontwoman Ana Matronic were in high spirits throughout, stopping at one point to pay tribute to their support act and fellow New York band The Drums.
As with their recent Glastonbury performance, the set ended with Matronic stripping Shears' clothes off to reveal a slashed leather mankini during 'Filthy / Gorgeous'.
The iTunes festival will feature a total of 62 bands over 31 consecutive nights throughout July at the Camden venue.
It continues tomorrow (July 2) with a performance from Tony Bennett.
Scissor Sisters set list was:
Night Work

Laura

Whole New Way

She's My Man

Something Like This

Any Which Way

Tits On The Radio

All That You Get

Running Out

Take Your Mama

I Don't Feel Like Dancin'

Fire With Fire

Nightlife

Skintight

Comfortably Numb

Invisible Light

Filthy / Gorgeous
(by Jason Gregory)