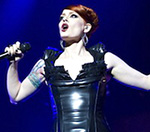 Scissor Sisters
showcased their long-awaited new album '
Night Work
' during a sweaty show in London tonight (June 22).
The US group played a host of songs from the dance-inspired record at the first of two back-to-back gigs at Brixton Academy.
The 90-minute set also included a number of fan favourites, many of which were attuned to suit the band's new direction.
Opening with 'Night Work's' title track, Scissor Sisters were on energetic form throughout, with frontman Jake Shears prowling the stage in a black vest and ripped jeans.
The singer displayed his impressive vocal range - and new muscled physique - during new songs 'Something Like This', 'Nightlife' and 'Any Which Way'.
After the latter track, singer Ana Matronic, who was wearing a black leather dress, hailed London as their "hometown crowd".
"We're back just as dirty and filthy as we ever, ever were," she added. "Actually we might be dirtier."
Unlike Scissor Sisters' elaborate stage shows of past, the band were accompanied by a more minimal, yet seductive, backdrop to match 'Night Work's' industrial theme.
The new direction was also evident in their older songs, including a stripped down 'Take Your Mama' and a rock-driven 'Laura'.
After briefly leaving the stage, Scissor Sister returned to play a three-song encore, which included their new album's closing track 'Invisible Light'.
They ended the set with 'Filthy / Gorgeous', which climaxed with a show of confetti dollar bills rain down on the audience.
Scissor Sisters play Brixton again tomorrow (June 23), before performing at the Glastonbury festival this weekend.
Scissor Sisters set list was:
Night Work

Laura

Whole New Way

She's My Man

Something Like This

Any Which Way

Tits On The Radio

All That You Get

Running Out

Take Your Mama

I Don't Feel Like Dancin'

Fire With Fire

Nightlife

Skintight

Comfortably Numb

Invisible Light

Filthy / Gorgeous
(by Jason Gregory)