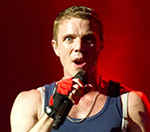 Scissor Sisters
frontman Jack Shears says he is "proud" that the band have inspired
Lady Gaga
.
In a recent interview, the US singer admitted that the fellow New York act had been a "big influence" on her music.
She also praised their approach to performance, which in the past has seen them appear alongside the Muppets.
In an interview Shears said: "I think [Lady Gaga's] great and I'm so proud of the fact that she gives us credit for influencing her. I'm really chuffed about it, it's a great thing. MO<"I think she's wonderful and she's been great for…You know, anything that gets people excited about the pop music landscape - or just the music landscape in general - is a really very positive thing, and I'm proud of that."
Shears also admitted that Lady Gaga's recent success had also helped them ahead of the release of their new album 'Night Work' this week.
"Hopefully artists can keep opening doors for each other," he said.
"There were plenty of artists before us that were inspiring and influential and all that, and if we've done that for somebody who's become as successful as she has, then that makes me really proud."
Scissor Sisters are due to open the iTunes festival at the Roundhouse in London tonight (July 1).
(by Jason Gregory)