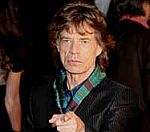 Rolling Stones
singer Mick Jagger says he has hired an assistant to update his Facebook and Twitter accounts because he can't be bothered.
Jagger, 67, said he was a fan of technology and the internet, but that it was important to find a balance.
"One of the problems is there's so many access points to being online that if you don't watch out you're never going to have any time to do anything else," he told GMG radio.
"There's so many gadgets and so many networking sites and there's so much you can do."
Jagger added: "I have to hire a special assistant to do my Facebook site and my Twitter site and I can't be bothered!
"You know I really can't, you've got to draw the line somewhere and say ok I'm not gonna' do that."
The full interview the Jagger will be broadcast across the Real Radio, Smooth Radio and Rock Radio Network this weekend.
The singer was appearing to promote the re-issue of the band's 1972 album 'Exile On Main Street'.
(by Jason Gregory)