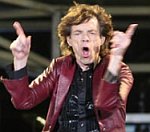 Sir Mick Jagger says he doesn't take drugs on stage any more as he likes to stay in control.
Speaking to Larry King, The Rolling Stones legend admitted to being high or drunk on stage in his his younger days but maintains it's something of the past.
"I always think it's better to be not taking drugs or drinking or anything," the 66-year-old said. "That's not saying I've never done it because I have. But I sort of learned I think after a while there has been - it didn't take me that long to realise that it wasn't a good thing.
"You know, taking drugs on a recreational level is one thing. But taking them while you're working on a stage is, you know, I don't think it was that great.
"It's the control factor. And the thing about being on stage, you really want to feel that you're sort of in control a lot, I think, because I don't think you want - it's not a place where you want to be out of control."
The reissue of the classic 1972 Rolling Stones record 'Exile On Main Street' is currently number one on the official UK midweek album chart.
(by Scott Colothan)