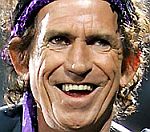 Rolling Stones
guitarist Keith Richards' autobiography will be published in October.
Richards began writing his memoirs for publishers Little, Brown and Company three years ago.
In an interview with The Independent, the guitarist said he was awaiting the proofs to be returned.
"It's kind of weird reading about your own life. Who'd be interested in that?" he said.
"But then, I realise there is a lot of interest, so...
"Talking to some of the people that were there and their version of events to try and correlate it all was very interesting, a kind of kaleidoscopic bunch of experiences."
Richards is reported to have received $5million for the book, which he previously joked was "very difficult" to write.
(by Jason Gregory)