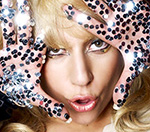 Lady Gaga
has revealed that
Beyonce
was left shocked when she first heard about the singer's plans for the video to their new single, 'Telephone'.
The nine-minute featurette includes a series of provocative outfits, girl-on-girl kissing and a cameo appearance from Quentin Tarantino's pussy wagon.
In an interview on Ryan Seacrest's KIIS radio show, Lady Gaga said Beyonce's initial reaction to the plot was: "'What's in your head, girl!?'"
The singer added: "She was very courageous in this video. Can you imagine me saying to her, 'OK, now Beyoncé, you have to call me a very bad girl and feed me a honey bun'?
"She trusted me because she liked my work and because she knew I loved her. It ended up being a masterpiece."
The video for 'Telephone' has already attracted over 15 millions views on YouTube since it made its worldwide debut last Thursday.
Meanwhile, MTV has been forced to deny a report that it had banned the video, insisting that it was still being broadcast.
(by Jason Gregory)