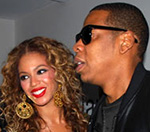 Jay-Z
and
Beyonce
made a rare joint public appearance yesterday as they helped put the wheels in motion on a new development project in Brooklyn.
The husband and wife team joined key public officials as ground was broken on the 22-acre site, which will eventually mark the new home of NBA team the New Jersey Nets.
Initially proposed in 2003, the $4.9 billion project at Atlantic Yards has faced criticism from anti-expansion protesters.
But Jay-Z, a co-owner of the Nets, said it marked a symbolic step forward for the area.
"What I stand here and represent is hope for Brooklyn, New York City. I'm a son of Brooklyn, I'm from Marcy projects," he told hundreds of onlookers.
"I think about growing up in Brooklyn in the Marcy projects and shooting jump shots, thinking I can make it to the NBA.
"Now I stand here as an owner of team that's coming back to Brooklyn.
The rapper added: "The pride in that, and bringing that dream so much closer for people, brings me so much pride I get a little nervous about it.
"But I'm very happy, very excited about this day."
The 18,000 all-seater stadium is due to open in 2012, according to the Associated Press.
(by Jason Gregory)