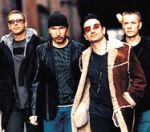 U2
have already started the follow-up album to 2009's '
No Line On The Horizon
' and promise that is "really special."
Speaking to Entertainment Weekly at the Golden Globe Awards, The Edge explained that the band have been working on new material in-between legs of their U2 360 World Tour.
"We are working on a lot of new songs. Some of them are really, really happy. We're convinced that we have something really special," he enthused.
Asked when the record is likely to see the light of day, the guitarist, real name Dave Evans, continued: "It's like deciding whether we are going to release the album before the tour starts or leave it for a while, we don't really know yet. Literally, within a day of getting off the road, Bono and I were working on new songs".
Despite progress being made, The Edge was unsure, adding: "We are experimenting with a lot of different arrangements, and electronic is one of the things we are playing with.
"But there are other songs that are very traditional, almost folk. In some ways, that's the thing we haven't figured out yet, is where this album is going to end up."
U2 reconvene their world tour in Anaheim, Orange County on June 6th.
(by Scott Colothan)