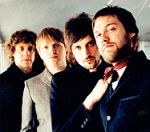 Kasabian
singer Tom Meighan has paid tribute to
Oasis
, who the band are currently supporting on a UK tour.
Meighan told BBC Newsbeat the Manchester group were one of only a few remaining "iconic" bands.
"You've got to remember they were huge and they still are huge, they're massive," he said.
"It's the enigma, its just Oasis, they're still here after 15 years.
Kasabian are the main support act on Oasis' UK tour, which began last week with three shows in Manchester.
After an opening night which was tarnished by sound problems, the band completed their run with two gigs on Saturday and Sunday.
(by Jason Gregory)