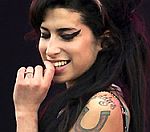 Amy Winehouse
is writing a book of poems about her troubled life, according to reports.
Winehouse is currently enjoying time on the Caribbean island of St Lucia, where she is said to have been inspired to write about her career and tumultuous relationship with estranged husband Blake Fielder-Civil.
A source tells the Daily Star, "Amy's been stimulated since living in St Lucia. She loves the chilled-out Caribbean atmosphere and has found it has encouraged her to write again.
"Pete Doherty once told her that poetry was a good way to express yourself, so she thought writing a book of poems about her life would be a fine start."
(by Daniel Melia)