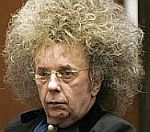 Phil Spector has been found guilty of murdering the b-movie actress Lana Clarkson in 2003.
A jury at Los Angeles Superior Crown Court today (April 13th) reached a unanminous verdict following nine days of deliberations.
The 67-year-old faces at least 18 years in prison.
Clarkson died after she was shot in the mouth at the music producer's home in Los Angeles four years ago.
Spector pleaded not guilty to Clarkson's murder and the original trial in 2007 resulted in a hung jury.
Ten jury members voted to convict the music producer, but under Californian law a unanimous verdict is required.
Spector's retrial began last October and featured testimony from 77 witnesses.
The defence argued during the trial that the actress killed herself.
The charge of secondary-degree murder sits between first-degree and manslaughter.
Spector pioneered the Wall of Sound recording technique, and collaborated with artists such as Tina Turner, The Beatles and Leonard Cohen.
But in more recent years the producer's reputation in the music studio has been overshadowed by reports of his idiosyncratic behaviour.
Spector will be sentenced on May 29.
(by Jason Gregory)