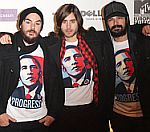 30 Seconds To Mars
singer Jared Leto has admitted the band have considered giving their new album, '
This Is War
', away for free.
The band are currently putting the finishing touches to the album in the studio with producer Flood (U2, Depeche Mode, NIN, Sigur Ros, PJ Harvey, The Killers etc.), and Leto admits releasing it as a free download is an option.
The actor turned rocker told Rock Sound magazine: 'Anything can happen, you never know what the future will hold. Maybe we will just throw our new album on the internet and see if anybody wants to take it. We have never made a penny from selling a record anyway so why would it matter to us?'
Last summer it was announced that 30 Seconds To Mars' label Virgin/EMI were suing the band for $30million claiming Jared Leto and co. failed to deliver three albums in time, as required on their contract.
(by Scott Colothan)