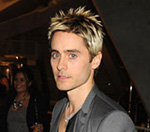 30 Seconds To Mars
frontman Jared Leto has thanked
Kanye West
after he joined the band on stage at the MTV Europe Music Awards (EMAs) in Madrid.
The rapper appeared as a surprise guest during the band's outdoor performance at Puerta de Alcala last night (November 7).
West rapped his verse on the band's song 'Hurricane' before playing a short version of his own single, 'Power'.
"This wasn't even last-minute, more like last-second," Leto told MTV News. "Literally a day and a half ago, he was in New York and he got on, literally, the last flight, he made it out here.
"It's really a testament to him. ... I mean, Kanye West flew halfway across the world to be on the stage with 30 Seconds to Mars for a short period of time."
Leto said both musicians "knew it was going to be imperfect and a bit of a beautiful disaster".
He added: "It was more about the doing and sharing it together and really celebrating each other and the work we do."
(by Jason Gregory)