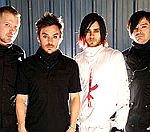 30 Seconds To Mars
encouraged festival-goers to have "filthy sex" in their tents as they headlined the Sziget festival in Budapest on Friday (August 13).
Frontman Jared Leto handed out the advice as they came to the end of their energetic set on the main stage.
"Are you ready to go back to your tents and have filthy sex," he said.
Topping the bill on the third day of the event, the US band kicked off their performance with 'Escape'.
Leto, who was sporting a blonde Mohican comb over, paused before third song 'Attack' to tell the Hungarian crowd that he wanted them to "go crazy tonight".
He then grabbed a spotlight and ran across the stage shining it into the audience.
30 Seconds To Mars also played 'A Beautiful Lie', 'This Is War' and an acoustic version of 'L490' during their 12-song set.
The band were joined on stage towards the end by a number of female audience members who had been hand picked by Leto to appear on stage,
After again paying tribute to the crowd, the band finished their set with fan-favourite 'Kings And Queens'.
30 Seconds To Mars played:
Escape

Night Of The Hunter

Attack

Vox Populi

Search And Destroy

A Beautiful Lie

This Is War

L490

The Kill

Closer To The Edge

Kings And Queens
The third day of the festival also saw a main stage performance from Mika, who put on a spectacle as the sun set in Budapest.
Surrounded by rows of sunflowers and multi-coloured banners, the singer played all his hits, including 'Lollipop', 'Grace Kelly' and 'Rain'.
The singer also performed a guitar-driven cover of the Eurythmics 'Sweet Dreams'
"Its been so much fun, thank you," Mika said as he left the stage.
Enter Shikari played on the Headbangers Ball Stage, showcasing the more recent drum and bass-influenced songs from their recent album 'Common Dreads'.
zZz and Papa Roach were also along the performers on day three.
(by Jason Gregory)