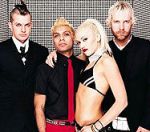 No Doubt
have confirmed that they are to return to the road in 2009 armed with new material.
The group said on their website that they were currently working on the follow-up to their 2001 album 'Rock Steady'.
"I have cabin fever. Maybe we should play some shows or something?" guitarist Tom Dumont wrote, to which singer Gwen Stefani replied: "I think we should go out now. I don't think we should wait.
"Pack up the babies and get a bunch of nannies. So fun. Would be so inspiring to get out there and play all those songs again.
"I think that if we go out on tour it will inspire us to write. I need to see the fans out there."
Since the group's last tour in 2004 Stefani has launched a hugely successful solo career.
(by Jason Gregory)