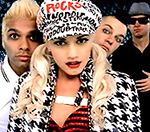 No Doubt
's
Gwen Stefani
has donated $1 million dollars to Japan relief.
The singer has donated the large sum to the Save the Children's Japan Earthquake-Tsunami Children in Emergency Fund to help relief efforts in Japan.
In a statement Stefani said: I've been inspired by Japan for many years and have a true love, appreciation and respect for the Japanese people and their culture."
"The disaster in Japan is beyond heartbreaking and I want to do anything I can to help. I would never be able to make a gesture like this without the love and support of all the fans over all these years."
Relief efforts are under way in Japan following the 9.0-magnitude quake and tsunami that hit the country's North East coast.
(by Holly Frith)