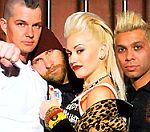 Gwen Stefani
says
No Doubt
are having "fun" recording their new album.
The group, who reformed last year, have recently re-started work on the project after Stefani finished her own solo album.
"They were doing stuff before but things are kind of starting over, you know what I mean?" the singer said.
"We might revisit some of that stuff, but it's the same old chase. It doesn't matter how we get there - we want to get there, we will, and we're having fun doing it."
Stefani, who was speaking at New York Fashion Week, said the band were also listening to a lot of 80s music in the studio.
"The last few weeks, we've been listening to the worst of the '80s, in the sense of bad but good," she told Rolling Stone.
"Pop songs, one-hit wonders, nifty songs, things like that. You just go back and find things that you love, and try to figure out how they made them.
"We just listen to good songs, and then writing our own stuff, we try to pull it out wherever we can."
No Doubt reformed in 2009 for a number of reunion dates. The band have yet to set a release date for new material.
(by Jason Gregory)