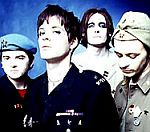 Manic Streets Preachers
guitarist Richey Edwards has been declared "presumed dead", nearly 14 years after he went missing in South Wales.
Edwards, 27, is thought to have taken his own life after his car was found near the Seven Bridge.
The musician's parents, Graham and Sherry, granted a court order for him to be declared presumed dead.
Manic Street Preachers publicist Terri Hall said the band's remaining members had found the decision "hugely emotional".
Edwards went missing from a London hotel on February 1st 1995. Two weeks later when his car was found abandoned by police.
As previously reported, they are currently recording an album which features lyrics written by Edwards.
The album, the band's ninth, celebrates "the genius of his words, full of love, anger, intelligence and respect", Manic Streets Preachers said in a statement.
(by Jason Gregory)