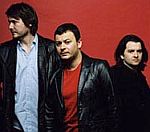 Manic Street Preachers
are recording an album which features lyrics written by their missing member Richey Edwards.
The album, the band's ninth, celebrates "the genius of his words, full of love, anger, intelligence and respect", Manic Street Preachers said in a statement.
Edwards went missing from a London hotel on February 1st 1995. Two weeks later his car was found abandoned near the Seven Bridge.
In their statement, the band said: "The songs we are recording are lyrics left to us by Richey.
"Finally it feels like the right time to use them (especially after the last 18 months with 'Send Away The Tigers')."
They said they had been recording Edwards' lyrics "live" in the studio with producer Steve Albini.
"Musically, in many ways it feels like a follow up to 'The Holy Bible' but there is also an acoustic side - tender, romantic, nihilism, Small Black Flowers That Grow In The Sky-esque," they added.
At present, it's not clear when the album will be released.
(by Jason Gregory)