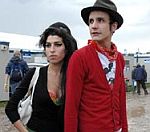 Amy Winehouse
has reportedly admitted that her marriage to Blake Fielder-Civil is over.
The singer is quoted as saying there is "no way back" for the pair amid reports her husband is dating a German model.
"It's over. There's no way back for us now. It was never going to last. We were only together for sex," she told the News of the World newspaper.
"I fancied him like mad, like no one else I've ever known. But it's not enough, is it?"
Fielder-Civil is currently undergoing a course of rehab following his release from prison three weeks ago.
The newspaper claims the former TV runner, who married Winehouse 17 months ago, has begun seeing Sophie Schandorff.
According to a friend of Winehouse, the singer has accepted the "reality" of the situation.
The reports come just days after Winehouse was spotted near her Camden home wearing a wristband with 'Amy Civil' written on it.
(by Jason Gregory)