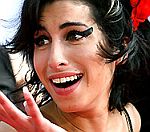 Amy Winehouse
has angered her family after she paid £30,000 for her husband's recent stint in rehab, according to reports.
Blake Fielder-Civil began a course of rehabilitation in Surrey three weeks ago after he was released from prison.
But Winehouse's family, who in the past have expressed their concerns about Fielder-Civil, are said to be "exa sperated" that she paid for it.
A source told the Sun newspaper: "While Blake was inside it finally looked like she was getting her life back on track.
"Blake's influence is entirely destructive for Amy. A crisis meeting has been held and a number of options have been discussed to sever contact for good."
As previously reported, the singer is yet to see her husband since his prison release.
Although was spotted in London this week wearing a security band with 'Amy Civil' written on it.
(by Jason Gregory)