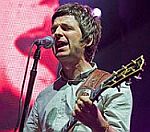 Oasis
guitarist Noel Gallagher had been declared a hero after he apparently saved a former Bond girl from dog thieves.
Gallagher disturbed the gang while they were trying to take a black Labrador belonging to The Spy Who Loved Me star Caroline Munro near his home in London.
According to the Mirror newspaper, Gallagher gave the "hoodies" a "right ear-bashing" before they ran off.
"Noel was so brave the blokes could have been carrying knives but he just didn't care," a neighbour told the newspaper.
"He's a tough bloke and he doesn't like people taking what isn't theirs. So he tackled them and they quickly did one."
As previously reported, Gallagher paid tribute to the film franchise earlier this month when the present James Bond, Daniel Craig, watched the group perform at London's Roundhouse.
(by Jason Gregory)