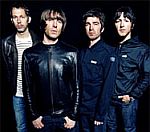 Oasis
brothers Liam and Noel Gallagher will carry boxer Ricky Hatton's title belts into the ring in Las Vegas this weekend, according to reports.
Hatton, the IBO and Ring Magazien belt holder, is preparing to take on Paulie Malignaggi at the MGM Grand Hotel.
Speaking to the Sun newspaper, the boxer revealed that he had originally asked if Oasis could perform before before the fight but he was told it wasn't possible.
"I'd be happy to let them put on a performance but maybe after this fight and possibly for a future fight," he said.
"I'm sure they would love it and I'm sure we could look at it at a future date.
"When I think of the most important things in my life, there's my family first and Campbell my son, then I've got boxing, next comes Manchester City, then it's Oasis."
The Gallagher brothers will be returning an outstanding favour by carrying Hatton's belts. The boxer introduced the group on the opening night of their UK tour last month.
Hatton told fans in Liverpool that he was providing security after Noel Gallagher was attacked by a fan onstage.
(by Jason Gregory)