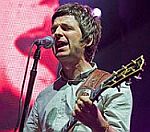 Oasis
mouthpiece Noel Gallagher has hit out at music critics who claim
Radiohead
are a superior band to Oasis because they are more experimental.
In an interview with Croatian radio station Plavi Radio, the guitarist said journalists shouldn't be mentioning his band and Radiohead in the same breath.
He said: "The biggest criticism that the music press have against us is that we're not Radiohead. But, correct me if I'm wrong, they've been making the same record since Kid A, have they not?
"I like them. Every time I see them live they blow me away, but you know, it's kind of, we make very accessible rock and roll music, you know, and they constantly make difficult electronic records. It's not a criticism of them, and it shouldn't be a criticism of us."
Elsewhere in the interview Gallagher also hit out at eminent music awards such as the Mercury Prize, ranting: "Every time we see (a Mercury Prize panel) they look like the biggest bunch of squares in England. I mean I'm sorry, it's just like, I don't want you sitting in judgement on my record, you've not had a boyfriend for twenty five years.
"Who's to say that you know, the Klaxons are greater musical exponents just because someone from The Guardian says so."
(by Scott Colothan)