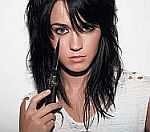 Katy Perry
has said a picture of her holding a knife "misrepresented" her and wasn't intended to cause offence in the UK.
The 23-year-old American singer was widely condemned when the picture, taken by fashion photographer Terry Richardson, was published by the Sun newspaper last month.
The publication of the photo came just days after a 16-year-old army cadet was stabbed outside a Liverpool Youth Club.
Perry spoke for the first time about the picture in Liverpool, where she is due to host the MTV Europe Music Awards tonight (November 6th).
"I was misrepresented because it was taken three or four years ago. It wasn't something I was trying to hide. I'm a very open book kind of girl," she told the Daily Star newspaper.
"Of course I'm a pop girl and I wanna make people happy so it hurt me to be connected to something that is really a big deal for you guys in the UK right now."
In the aftermath of the publication of the original picture, Perry appeared to mock the newspaper in another picture which showed her holding a spoon rather than a knife.
(by Jason Gregory)