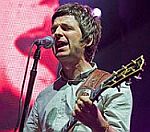 Noel Gallagher gave staff in a shop in Glasgow 30 tickets to an
Oasis
concert after they sold him two pairs of trainers.
The guitarist paid £225 for a pair of Gucci shoes and a further £150 for some YMC trainers at the designer store Cruise.
And Gallagher was so pleased with his purchases that he repaid staff with tickets to the band's show in Glasgow last night (November 5th), according to the Daily Record.
"Noel was so thrilled at getting his bargain, he asked staff how many would like to come to last night's show," a source said.
(by Jason Gregory)